Transatlantic Dialogues: Emma Ashford

The Hague Centre for Strategic Studies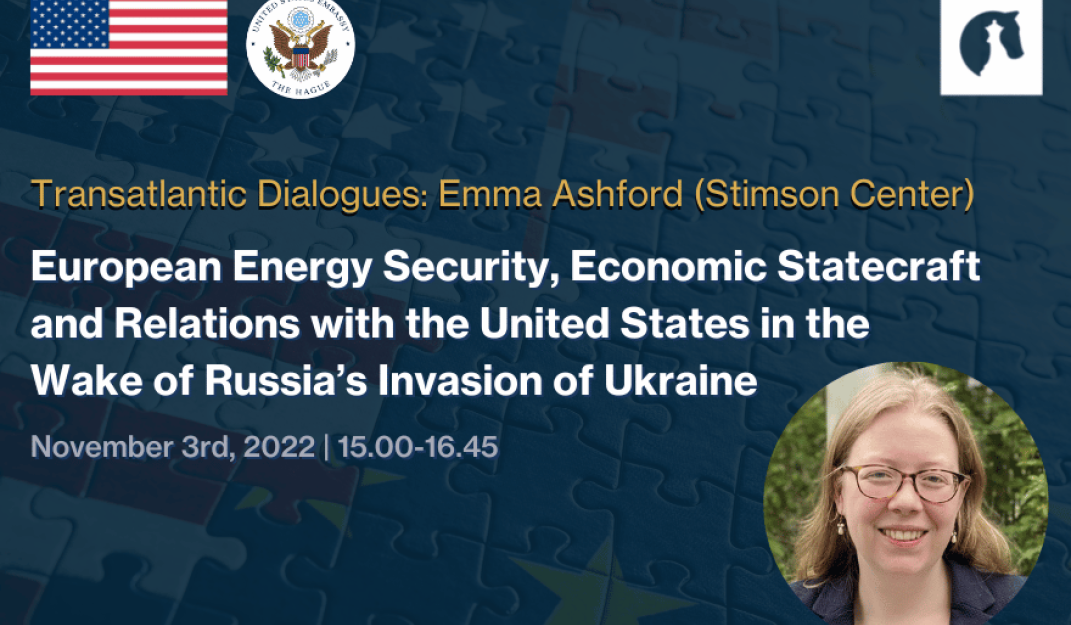 HCSS
In the wake of Russia's invasion of the Ukraine, Europeans will have to fundamentally reshape their energy regime to end their dependency on Russian oil and gas. At the same time, the war has underscored the central role of the US in European security.
Emma Ashford, Senior Fellow with the Reimagining US Grand Strategy program at the Stimson Center, will discuss the changes in the European energy regime and the transatlantic relationship. The United States has shifted its focus to the Indo-Pacific and away from the Middle East; the relationship with the Gulf States and other energy producers, that of Europe and Russia, and the awareness that economic statecraft has reemerged on the world stage, will all affect the future of the relationship between the United States and Europe.
Emma Ashford works on a variety of issues related to the future of U.S foreign policy, international security, and the politics of global energy markets. Her first book, Oil, the State, and War: The Foreign Policies of Petrostates, was published by Georgetown University Press in 2022, and explored the international security ramifications of oil production and export in states such as Russia, Saudi Arabia, Iran, and Venezuela.  
The Hague Centre for Strategic Studies is proud to host Emma Ashford as the first speaker of the Transatlantic Dialogue series, organized together with the Embassy of the United States in the Netherlands, that looks at how the relationship between Europe and the United States can be adapted to the geopolitical realities on the 21st century.
Lange Voorhout 1, Den Haag

The Hague Centre for Strategic Studies
HCSS conducts research and provides advice on geopolitical and defence & security issues to governments, international institutions and businesses. Our research is characterized by a datadriven, multidisciplinary approach, specialist knowledge and a strategic orientation. We combine broad, conceptual knowledge with qualitative and quantitative methods and present our findings in the form of recommendations, strategic explorations and scenario analyses