The Future of Human Rights in Times of War in Europe

Netherlands Helsinki Committee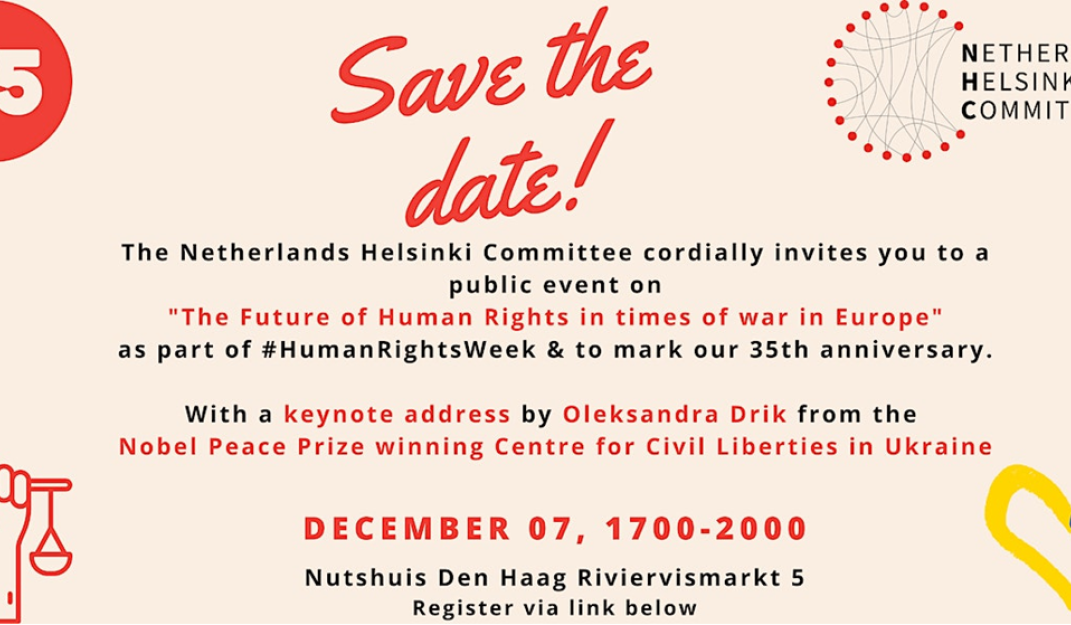 NHC
Dear friends of the Netherlands Helsinki Committee,
Please save the date for 07 December 2022, and join us at 17:00-20:00 at the Nutshuis in The Hague for an evening of reflection and debate on the topic of "The Future of Human Rights in Times of War in Europe" with a key-note address by Oleksandra Drik from the Nobel Peace Prize winning Centre for Civil Liberties in Ukraine. She will be joined on stage by Dutch Human Rights Ambassador Bahia Tahzib-Lie, Yvonne Donders, Professor International Human Rights at the University of Amsterdam, Commissioner at the Netherlands Human Rights Institute & member of the UN Human Rights Committee, Małgorzata Szuleka, Secretary of the Management Board and Head of Advocacy at the Helsinki Foundation for Human Rights in Poland, and other Dutch & international speakers. The event will be moderated by Leila Prnjavorac. Full programme & invitation to follow!
This year marks 35 years that the Netherlands Helsinki Committee (NHC) was founded as an organisation focused on critically following the implementation of the human dimension of the Helsinki Accords, both in the East and in the Netherlands.
While there have been many tumultuous events that have marked our 35 years in existence, the outbreak of full-scale war in Ukraine on 24 February 2022, in the heart of the Europe, is unprecedented. The Russian aggression is not only causing a humanitarian drama, but it is also an attack on fundamental values of the OSCE and the EU. Yet, especially in these dark times, we are deeply inspired by the brave human rights defenders of the past and the present that continue to working on positive change under the most difficult circumstances.
On 07 December, during the #HumanRightsWeek, we will create a space for further reflection on the future of human rights work in the wider Europe region. How is the new reality influencing the work of human rights organisations? What are the new topics on the horizon? How can we adapt and grow stronger in a time of shrinking civic space? We will discuss these questions, and more. Together we can learn from the past and build a strong human rights movement for the future.
We hope to see you there!
In solidarity & with warm regards, Kirsten Meijer, Executive Director NHC.
Riviervismarkt 5, Den Haag